2014
As the 2014 gamefishing season has closed on Sept 30th Reports will resume in Feb/Mar 2015
27th Sept
Frank, Joris, Nico and Chantal are part of a 6-party group from Belgium visiting Ireland for 5 days. First-time visitors they wanted to see as much of our country as possible, and also wanted to try fly-fishing whilst here, aged 40-50yrs they had all fished when younger and now wanted to reconnect. It surprised me to learn that Belgium has very little in the way of fishing. With the continuing drought it really is not ideal for introducing newcomers to the fly but we had to make the most of it, and being realists they all accepted that our 4-hr session would be more about learning to cast than about catching trout. Pacey water is desirable for entry-level flyfishing down and across with wetfly and this was in short supply at the user-friendly stretch below Adare bridge, however I got the 4 to swop stands now and again so they weren't rooted to the same spot. They were great company and most had takes, Anderlecht supporter Frank saved the day with a nice brownie in 'injury time', just minutes before we finished. I dropped them in the village of Adare, insisting they watch the Hurling final replay, none objected! Pics below, click to enlarge.
| | | | |
| --- | --- | --- | --- |
| Joris, Chantal, Nico and Frank from Belgium | Joris and Nico | Chantal flyfishing the R. Maigue | Frank saves the day! |
Sept 20th
Tom Long and I have been fishing Lough Currane in Waterville, Co.Kerry for 30 or so more years now, not nearly as often as we'd like to. It's a special place, one never knows what will emerge, 4oz brownie, a 4lb Sea-Trout, or maybe the catch of a lifetime, a 24lb Salmon. It can be a dour lake at times, migratory fish are moody and will come on or turn off at the drop of a hat.... or a fall of ants even. It's an honour to fish in such lovely surroundings, hallowed waters indeed with Church Island keeping a protective eye on all who fish it. Our day was promising with a very low lake counterbalanced by a nice breeze and a cloudy sky. Things were slow but I had a small brown and a missed 'Junior' to keep us interested, and just before we broke for lunch I connected with a stale but lively 'walloper', those fish in the 2-4lb class which Currane is famous for, I gladly released the fish and we headed for lunch. As we dined on one of the islands the sun broke through the sky and was to remain for the rest of our day. That coupled with the fact we were drifting into the glare made for poor fishing, but immediately following resumption Tom connected with another lively fish of similar size to mine, but a wee bit fresher. Again Tom released his fish, both of our fish we estimated to be 3lb, perhaps better if fresh. We finished early due to the glaring sun, but were content with our lot, a 5hr roundtrip well worth the effort, pics below, click to enlarge.
Just a small section of Lough Currane Tom Long plays a Currane sea-trout My coloured but lively 3-pound sea-trout ......and a fresher 3-pounder for Tom Long
Sept 14th
Tonk Fischer and son-in-law Bryan Kazmar along with other family members are staying at the picturesque Gate Lodge thatched cottage in Adare village. Tonk is an avid flyman back home in Oregon, USA, and Bryan is a keen rookie. I had flagged the poor prospects with Tonk, especially the low water, but he was having none of it, wanting to do the full day anyhow. Our day began at Ballyallinan, Tonk had never fished anywhere like it, the river Deel here challenges the best, wild riverbanks, weeded river and easily-spooked wild browns, many find it difficult enough just getting into the water. I left Tonk to fend for himself fishing under a field of 80 or so heifers...and an understanably protective bull who would later introduce himself in person! Tonk had some rises to his dry BWO but alas did not connect. We adjourned for a packed lunch and headed back to Adare for the final hour of the ebbing tide, here I continued to help Bryan with his casting whilst Tonk went wandering again. Both had many small fish including Bream on the fly, delightful company both, pics below, click to enlarge.
| | | | |
| --- | --- | --- | --- |
| Tonk between scorched riverbanks and a shrunken River Deel | Tonk Fischer and Bryan Kazmar | Tonk under Desmond Castle, R. Maigue, Adare. | Bryan Kazmar and a fly-caught Bream |
Sept 8th
Annette Randall and Tracy Holdgate along with hubbies Andrew and Colin, all from Essex, UK are holidaying in Ireland, all but Colin had never been to Ireland before. They're enjoying their time here and booked me for a half-day intro to flyfishing. All are new to flyfishing and with continuing low-water levels conditions were not great, the Maigue running as low as I've ever seen it and gin clear. All had hits though, Colin even lost a fish, delightful people, they were a pleasure to guide and spend time with, pics below, click to enlarge.
| | | |
| --- | --- | --- |
| | Andrew, Annette, Colin and Tracy from Essex, UK | |
August 30th
Kristen Monson and Brad Horner from California are touring Ireland & staying at The Mustard Seed located in my hometown. They're holidaying in style as next day they were leaving for Ashford Castle. Brad had never flyfished and Kristen was new to fishing so they took the opportunity to learn with a half-day session with me, pics below, click to enlarge.
| | | |
| --- | --- | --- |
| | | Kristen Monson and Brad Horner at Adare |
August 25th
Edo(ardo) Di Rosa is in Ireland for a month, getting some experience with a company in Shannon prior to finishing his University studies on Economics next year. He hails from Turin but does not have many opportunities to fish, so today was his first time really flyfishing. It was an extended half-day session and we fished the Maigue at Adare. There were some heavy showers but that did not deter Edo who was full of eagerness to learn. He netted two browns and lost 2 good fish, a bit too strong on the striking as are most when new to flyfishing, Pics below, click to enlarge.
August 12th
Brothers Mike and Pat Riley of Colorado and New York are staying at Adare Manor and had a 4hr session with me today. Mike flyfishes extensively in his adopted Colorado but Pat is a newcomer, there were originally 3 beginners to fish but 2 couldn't make it so that gave me more time with Pat. Mike was able to go it alone and was almost immediately into a nice 3/4lb fish. The Maigue is still very low despite floods on other rivers throughout the country, the Feale rose 2ft today. Pat was a model student and we had small trout, a Bream and a first for me here, a Perch on the fly, pics below, click to enlarge.
| | | |
| --- | --- | --- |
| Mike Riley with a nice Maigue brownie (C&R) | Mike and Pat Riley, USA | Mike Reilly flyfishes under Desmond Castle, Adare |
July 3rd
Michael Boyle hails from Manchester, UK and was on an August week-end trip to Ireland with his wife Dawn and mom Miriam. It's a small world indeed as I discovered, 5minutes after collecting him he told me that mom Miriam (nee Sheehy) originally hailed from my hometown of Ballingarry, her family originally ran the post-office here. Michael had decided to rekindle his passion for flyfishing, work commitments as a Chartered Accountant along with building his dream home fronted by a lake meant fishing took a backseat for the past few years. I had flagged the challenging conditions but Michael was happy to take his chances and saw it as an opportunity to enjoy the countryside along with improving his casting, we had an extended half-day at Ballyallinan, pics below, click to enlarge.
| | | |
| --- | --- | --- |
| Working upriver | Ballyallinan Bridge on R. Deel | Bankside lunchbreak |
June 22nd
Dakota Scranton is visiting Ireland with his mom Leslie, they are based in Juneau, Alaska but are originally from Colorado. They hit the ground running, flew in to Shannon Airport this morning at 8.30am and were collected for a few hours fishing by me at 12 noon. Dakota was the fisherman and Leslie came along as well, taking in the loveliness that is Adare. The Maigue is still very low and we fished up to the incoming tide, Dakota loves his flyfishing and was happy to take some tips from me. He had a small fish and a number of hits but our time was all too short, pics below, click to enlarge.
| | | |
| --- | --- | --- |
| River Maigue | Dakota and Leslie Scranton | Dakota flyfishing a coming tide |
July 11th
Steve McDonald, John Wilson and 'Skip' French, all from California are touring Ireland as part of a group of 11 friends and family and joined me at Adare today for a half-day session. They were en-route from Killarney to Ballinlacken Castle Hotel in Clare and so their time was limited. 3 great guys and a pleasure to guide, the fishing was slow, low water and weeded rivers mean most leave their flyfishing until later and the 'evening rise' . We visited the Deel at Ballyallinan and finished on the Maigue at Adare where their hired bus awaited them, Pics below, click to enlarge.
| | | |
| --- | --- | --- |
| On the Deel at Ballyallinan | 'Skip' French on the Deel | The guys at Adare |
July 7th
Ken Welk along with his father-in-law David Yunghans, both from Philadelphia, were staying at Rigneys Guesthouse near Curraghchase when they befriended Quebec native Jocelyn Jacob. All 3 joined me this morning for a half-day session on the Maigue, all are keen fishermen back home but by their own admission had not done much flyfishing. Conditions are still difficult with low water and bright sunshine, tough even for the most experienced, and so we again used the Adare stretch of the Maigue. More and more I'm staying on to fish the early flood-tide and it was at this point things improved, all had takes and some had fish, see pics below, click to enlarge.
Ken Welk....driven to drink by the excitement of it all! Ken with Brownie Fishing the flood-tide L to R Ken Welk, David Yunghans,
Philadelphia and Jocelyn Jacob, Quebec
July 3rd
Brian Gordon, originally from the Great Lakes, Canada, and now working as a lawyer in Singapore is back in Ireland with his Charleville-born wife Emma. Brian had never flyfished which seems a shame given where he grew up, and was keen to take a short crash course on casting with me. Keen as mustard, Brian will continue to flyfish if his eagerness is anything to go by. Our all-too-short session mainly concentrated on the basics of flycasting, overhead casts, and finishing with shooting line. Pics below, click to enlarge.
Brian Gordon
June 29th
The Sinnott family from Seattle, USA, are on a first-time visit to Ireland and staying at Adare Manor, not content to laze about whilst on vacation they had already done Archery and a Falcon walk before I took them for a few hours fishing this afternoon. None had ever held a fishing rod before, never mind a fly-rod. Like most rivers the Maigue is very low right now and the day was bright and warm, not ideal for fishing. The stretch below the bridge at Adare however is ideal for introducing folk to flyfishing, fastish runs, open skies and lots of co-perative wee brownies, not to mention the old bridge and castle which make for a nice backdrop. The Sinnotts handled the conditions admirably and were very enthusiastic, there's lots of fishing back home near Seattle and their primary objective was to see what flyfishing was all about. Mom Laura had a couple of fish, one of 1/2lb, son Connor had two also, whilst dad JB had 4/5 takes which all came off, Pics below, click to enlarge.
Sinnott family from Seattle Connor Sinnott Laura with daughter Maggie
June 23rd
Jeff Cutright and Ted Stewart are in Ireland for the first time and staying at Adare Manor from where they booked a half-day with me short notice. Our rivers are quite low at present and all methods of fishing are challenging, but it's in just these conditions that flyfishing can save the day. I don't wish to labour the point but flyfishing has to be the most accepted, skilful, successful and active form of fishing there is. In low water an ability to flyfish upstream with dry or nymph is a huge advantage and there's no comparison between the relatively easy down and across method of flyfishing and upstream tactics. Many clients which I guide profess a proficiency in flyfishing but their ability is usually confined to the basic across and downstream method, what I call entry-level. Make them 'about-face' and ask them to flyfish upstream and they're usually flummoxed. Jeff and Ted both had fish despite the adverse conditions, and Ted improved his casting no end, pics below, click to enlarge.
Jeff Cutright under Adare Castle Ted Stewart with a Rudd on fly Jeff Cutright (L) and Ted Stewart
June 20th
Jim Herrell from Washington DC is taking a well-earned break here with his partner Marlene. Jim is an enthsiastic flyfisher and sometimes Tenkara flyfisher. Never too proud to ask for help Jim spent a day and a half with me and whilst river conditions were far from good our main concentration was on tweaking and improving Jim's casting. I left him and Marlene today on their way to the Burren and by his own admission Jim will be leaving Ireland much more confident with his casting and eager to explore new directions with his flyfishing. Jim was a delight to instruct, his parting joke was that he nearly drove an Irishman to drink...you gotta think about that one!
| | | |
| --- | --- | --- |
| Jim Herrell on the Deel Gotcha, on the Maigue Fishing a filling tide at Adare | | |
June 12
Give me a bad day on Currane over a good day in the office anyday. I joined Tom Long for our annual raid on Lough Currane yesterday. Conditions were good windwise if a bit squally, a constant/consistent wind is more favourable. Bright sunshine prevailed for most of the day. The lake was at a good level from recent rains and Tom's fishing buddies Finbarr O'Donovan and Jerome Dowling were also not far away drifting in another boat. Tom hooked and lost a fish in the 'Walloper' class (2-3lbs) before lunch and a similar fish broke on me in the afternoon. In between we got a couple of small sea-trout but the action was sparse. Finbarr, in the other boat struck silver twice with a 3lb and 11/2lb fish, can't beat them Corkmen, Pics hereunder, click to enlarge.
3 Amigos! Church Island Daniels Island
June 2nd
Jason Khym from Tennessee along with his wife are staying at Clonshire Equestrian Centre and have 12 young lady Equestrian eventers in their charge, so Jason took time out to flyfish before flying out from Shannon next day. One of the young ladies, Lora Raper joined Jason as she too likes to fish back home, mainly for Smallmouth Bass. It was a half-day session and due to a morning tide we delayed our start at the Adare stretch of the Maigue until 1pm. We were a little early as the last of the ebb tide had yet to leave and allow the river return to normal freshwater level. This time was beneficial as it allowed Jason and Laura to refresh their flycasting skills and also a brief introduction by your's truly as to tactics they could employ. There was still a good hour before the level finally reached it's normal height and it wasn't until after that fish started to take consistently. Both fished bead-head Hares Ear on the point with an Alder as dropper. Jason and Lora enjoyed a couple of hours sport in what was a very cool afternoon compared to the previous day, they both had close to 10 fish each, losing many more as is the case here, Pics below, click to enlarge.
| | | |
| --- | --- | --- |
| | | |
Jason Khym and Lora Raper flyfishing the Maigue at Adare
June 1st
Steve Murphy from Ontario has Fanningstown Castle taken this week along with his friends and relations. They've been in Ireland since last week seeing Dublin and will finish off their vacation in England. Steve loves his fishing and fishes extensively back home where he's spoilt for choice. We fished a short session on the Deel before returning to the Maigue at Adare where Steve had several small but lively trout to the fly. We then proceeded to the Fanningstown Castle waters some 2 miles upstream of Castleroberts, this is a lovely stretch with a weir at it's uppermost boundary. Steve had a strong offer on a streamer, the water still being somewhat coloured. The exercise was to show Steve the water so he can fish it solo during his week. We made it home just in time to see the end of the Limerick v Tipperary game, what a win! Steve's never seen hurling played and is now a fan, Pics below, click for larger images.
Steve Murphy on the Maigue
May 29th
Turlough Herbert joined me for an evening session on the Upper Deel yesterday. Totally wild because it sees little fishing activity it's wilderness fishing at it's best and most challenging. Though much smaller than it is around Rathkeale it holds some good fish, all wild and prepared to give a good account of themselves. Though there was a rise on when we started around 6.30pm Turlough opted to fish small nymphs and was soon meeting small but hyper trout. I moved upstream, getting out of the river and getting access back in again further up proved difficult, this re-inforces the wild nature of these reaches of the Deel. As a man said to me prior to our visit ' not the place to take a new pair of breathable waders'....I had a couple of fish on dry BWO's and Turlough continued to experiment crossing from nymph to dry to New Zealand style, meeting fish on all methods.....these fish probably never saw an artificial in their lives. All fish were released, indeed many came off in play such was the reaction when hooked. I hope we still have these wild places in 20years time. Pics below, click for larger images
Turlough Herbert on the upper waters of the Deel
May 22nd
Barrie Walker is in Ireland with some friends from the UK and a youthful Barrie decided to celebrate his 74th birthday by taking some flycasting lessons with me today. The Maigue was still high following Tuesday evenings downpours but we were concentrating more on casting and theory and though the morning was murky to begin with it brightened somewhat as it progressed. Barrie and 11 more of his party are to man a 52ft boat and enjoy what the Shannon has to offer, delightful company, I hope they all have a ball whilst here, Pic below.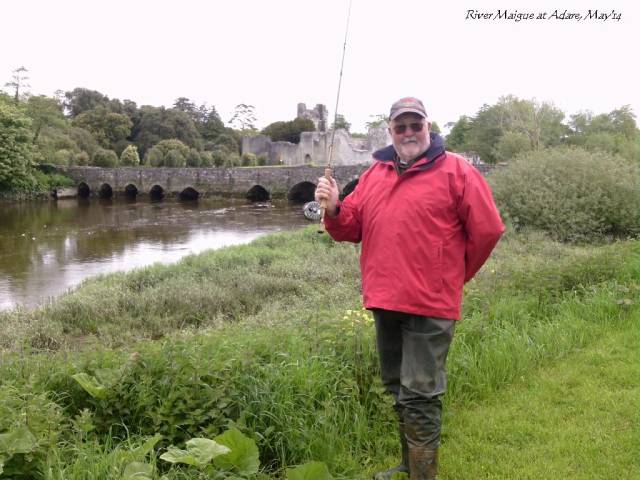 Barrie Walker
May 13th
Our rivers are more or less back to normal levels although we've had some showery weather over the past week so that will keep them fresh, good for migrating salmon and also the first of the sea-trout should be inching their way inland. Early sea-trout tend to be larger than their later 'juner'/'junior' brethern which average 3/4lb or so, they also seem to be loners, few and far between, whereas the later runs are usually shoalfish. Everything is late this year, the Hawthorn Fly or Bibio Marci, so-called because it's usually prevalent around St. Marks Day on April 25th, is still about in abundance. The Mayfly will no doubt be later this year also but I would expect to see some in the coming week, perhaps peaking towards the end of the month. Guiding is slow and though I would cite May as the best all-round month on our fishing calendar tourists are somewhat scarce until we get into the main vacation months of June-September. Sea-bass season closes for a month on Thurs 15th but I am hopeful of getting a sea-trout with the fly in saltwater this year, don't have a huge range of marks to achieve this in my locality which makes me all the more determined. Salt-water flyfishing has become very popular here, and the great thing about it is our Sea-Bass are great sport on fly or indeed spinning tackle, and if one is experimenting with saltwater flyfishing for Sea-trout there's the added bonus that one's time is not misspent since bass and sea-trout are usually found around the same locations.
April 21st
Hotelier Mark Foster from Maine, USA, is holidaying in Ireland for the first time along with family and friends. They're staing at Adare Manor and Mark likes to fish back home as his hotel is on the seafront at York Harbour. Both the Deel and Maigue have dropped levelwise in the past week or so but temperatures are still a bit low for sufficient hatches to interest trout. We spent a short period at Castleroberts where there were some olives about from 12 noon, not enough to warrant surface activity from the trout however, Mark did have one pull but did not connect. We adjourned to the Deel at Ballyallinan where conditions were no different, no activity, we fished wet with an Olive Nymph on the point and a Black Gnat as dropper. There was a high tide at 11am at Adare and so the Maigue would have been fishable there from 3pm or so on, last throw of the dice! It didn't disappoint and Mark had 3 fish on in the first 10 mins, all surprisingly about 1/2 lb. The fish eventually stayed on though and Mark enjoyed a great hour, catching and releasing 7 fish. Pics below.
April 12th
Eoin Noonan, originally from Ballyhahill, along with his wife Evelyn had done a beginner's day with me 8 years ago. Jobs and 2 wee baby daughters intervened however with the result there was little time for flyfishing. They've built their nest near Evelyn's homeland of Meanus, with the Camogue River just down the road, a river Evelyn's dad knew well, indeed he was a founder-member of the Camogue anglers. I get the feeling they're an 'outdoorsy' family. Eoin booked me for an improver's day yesterday and we fished the Maigue and Deel, indeed Eoin is now a member of the latter angler's club in Rathkeale. The rivers are high and temperatures low there was not much sign of fly or fish activity, but the day was more about improving Eoin's casting than catching fish, and Eoin mastered roll-casting over both shoulders, so job done! Pics hereunder
| | |
| --- | --- |
| | Eoin Noonan wet-fly fishing the Deel |