2013 Reports
Happy Christmas and a prosperous New Year to all from Paddy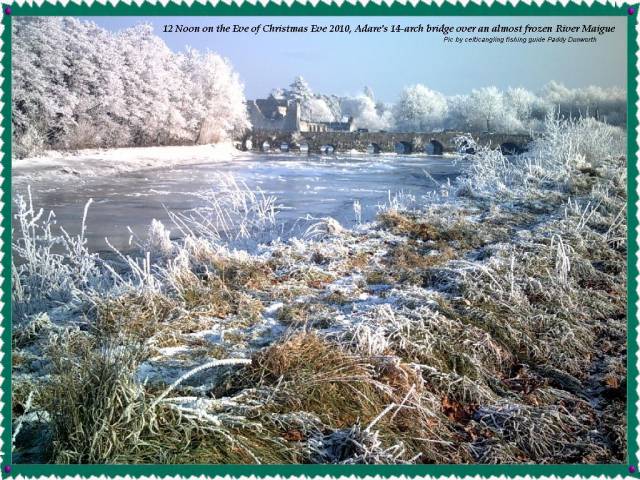 Nov 7th
Apologies for absence of updates since close of season on 30th September. I've updated the site to include 2014 dates and I'm already looking forward to re-opening of our Trout season on February 15th 2014, with Salmon season opening March 1st. The private Glasha Lake (Rainbow Trout) , along with Bass prospects at Tarbert used to offer off-season opportunities but the closure of the former along with the cessation of electricity generating at Tarbert means those options are no longer. There would be prospects of Pike fishing which remains open year-round but they can be difficult to locate and on lakes in particular one needs to get out (Boat) and fish inwards to shores which are usually reed-fringed and make bank-fishing difficult. The usually wet and cold weather along with early darkness does not encourage fishing this time of year anyway. Should you be considering fishing in my area in 2014 by all means get in touch, I usually dispense with deposits once I'm aware of one's accommodation arrangements, and am only too happy to advise on your vacation plans, fishing or otherwise. I check my emails daily, if not hourly and I make a policy of answering them within the hour if possible. If your plans are at an early stage then I'm only too happy to let you choose a day provisionally, subject to cancellation or alteration as your plans progress. I've also added a new page to my site which enables folk to rent a total flyfishing outfit, including waders from me, see http://www.celticangling.com/fly-fishing-ireland.html
Sept 13th
Robert Diedrich from Tucson, Arizona, along with his wife Linda are holidaying in Ireland and are enjoying a stay at Ballingarry's own Mustard Seed. Robert likes to flyfish whenever he can get out of the 'desert' and has an impressive flyfishing CV. I warned him on booking that conditions would be challenging and so it was, and Friday 13th on top of everything. I was pleasantly surprised to see 6 inches or so of a rise on the Deel at Ballyallinan, Robert hadn't done much upstream flyfishing and as in so many occastions before, those new to it find it a whole different ballgame to downstream tactics. Present conditions with low water and easily spooked wild trout mean that upstream is the only way to go. We had no luck at Ballyallinan and moved a few miles downstream to Kilcoole where there were fish rising to BWO's. Robert fished both dry and nymph and his upstream game improved no end in our short time together, a charming man to guide, belying his 65years he regaled me with stories of drinking with John Wayne and meeting The Eagles in their early days, being in the sound-recording industry as well as playing with a band he met many of the big names in Rock too, great company, pics below, click to enlarge.
Robert Diedrich on the River Deel
Sept 4th
I had the honour of guiding husband and wife Gary and Wanda Taylor from Georgia, USA today. Both Gary and Wanda ( www.garyandwandataylor.com ) are Certified Master Casting Instructors with FFF (Federation of Fly Fishers). They're staying at Recess in Connemara along with other family members and although it's their first trip they hadn't planned it as a fishing vacation. Their, and my good friend Gary Dubiel of Nth. Carolina (www.specfever.com) had referred Gary and Wanda to me and so they made the long roundtrip from Connemara to Adare. It was a flying visit and I wanted to show them as much water as possible, as a result we were racing about and not getting much serious flyfishing done, more delightful company you couldn't hope to meet and I hope they come back again when we can do some serious flyfishing in better water levels. Gary and Wanda are also Technical Advisors with Temple Fork Outfitters, or TFO (www.tforods.com) , my 20 fly outfits are almost exclusively TFO. Pics below, click to enlarge.
Gary and Wanda at Ballyallinan Bridge Wanda casts a true line Gary works up the Maigue A Flyfisher Called Wanda!
Sept 2nd
Out with Gig Codiga and daughter Kristin today.....very low water on both the Maigue and Deel made for challenging flyfishing. No fish moving on the Maigue where we spent the morning but the Deel at Kilcoole had some fish active.....though none were forthcoming, 'nuff said'. Pics below, click to enlarge.
Gig Codiga Kristin Codiga Kristin Codiga Kristin, Gayle and Gig Codiga
August 21st
Guiding Jim DiBiase from Pennsylvania today, Jim is holidaying in Ireland with his wife Christin, son and daughter. Jim heads up a guiding outfit back home in the USA, www.laurelhighlandsguideservices.com , he and 5 other guides fish the unpronounceable Youghiogheny River, mainly driftfishing with fly/nymph for smallmouth Bass. Jim had only a few hours as he was heading for the Cliffs of Moher with his family. We tried the Deel first at Kilcoole where Jim had several rises to a BWO and small Greenwells, we then hurried back to fish the Maigue at Adare where he had numerous offers , this time to the wetfly. Delightful company, it's always interesting to spend time with a fellow-guide and see how his operation runs, Jim hopes to come back again, next time hopefully we won't be hurrying about, Pics below, click for larger
Jim DiBiase meets the 'locals' and lands a wee brownie Jim with Kilcoole bridge and Himylayan Balsam in background
August 16th
Had an introduction to flyfishing with Kilfinny-based John Lordan and dad Barry, we just had 3 hours before tide arrived at Adare, great company both.
John and Barry Lordan on the Maigue at Adare
August 8th
Killian Ambrose from Ardagh did his Junior Cert this year and I had promised him some time ago that I'd introduce him to flyfishing, we finally got round to it today. Killian is a fine young man, he'd have to be, his grandfather was the late Jack 'Beth' Enright, a legend both on and off the hurling field. Killian likes the hurling, soccer and fishing, an all-round sportsman, he took to flyfishing in no time, quick on the uptake he had his first fish on the fly within an hour of starting and continued with 2 more, rounding off with a Rudd. All fish were sportingly returned, testimony to the conservation-minded outlook of this new recruit to flyfishing, the future is safe if fishing is in the hands of the Killians of this World, Pics below, click to enlarge.
PS Although there's now a Bye-Law prohibiting worm fishing on the Deel and Maigue, 2 anglers were obviously doing so during our time on the river, poetic justice prevailed however and a young complete newcomer to flyfishing wiped the floor with them, getting 4 fish to their none, testimony to the effectiveness and acceptance of flyfishing as a sporting and sustainable pursuit. Killian 4 Wormers 0. Way to go Boy!!!
Killian hooks his first ever trout on the fly ... and here's his prize .....................yet another and rounds off with a Rudd
July 24th
Eunice 'Nici' McCormick Singletary is here with her husband for a conference at Adare Manor and took time out to fish with me on what is a still very low Maigue today. Nici loves her flyfishing back home in Montana on the Gallatin River. She hadn't done much upstream work though and today was an opportunity to learn to cope with a quite strong downstream wind, she also learnt to gather and shoot line and we rounded off with some roll-casting. Delightful company and I hope she learnt something to take back to her beloved Gallatin, Pic below.
Eunice 'Nici' McCormick Singletary on the Maigue
July 22nd
Atlanta based Juliana Lynch surprised boyfriend Allen Pierce with a day's fishing on the Maigue today, a belated birthday present. Juliana had never fished, Allen had some flyfishing mileage on the clock and the continuing drought didn't offer much promise. As is my wont with beginners we started below the bridge at Adare where both Allen and Juliana had fish, pacey water is very scarce right now and so fishing stands were limited. We adjourned to Castleroberts for lunch followed by a session above the bridge, nothing stirring, but Juliana continued to flourish with her casting, as natural a flyfisher as I ever met, Pics below, click for larger images.
Juliana with brownie Allen at Castleroberts Juliana above Castlerobert's bridge Juliana and Allen
July 18th
Rick Carey from the USA turned 70 this year,to celebrate he and his wife Ellen and extended family are on vacation in Ireland, staying at Springfield Castle. Rick was joined by his sons Allen and Ben, plus his brother Jeff for a day's intro to flyfishing with me today at Adare. A shrunken Maigue and blazing sunshine meant catching fish would be difficult, but the guys were great company and an incoming tide hunted us off the river about 1pm. We got some nice pics in what is a very scenic location, see below, click for larger version.
| | | | |
| --- | --- | --- | --- |
| A shrunken Maigue | Ben and Allen | Allen near the fish pass | l to R Allen, Jeff, Rick and Ben |
July 15th
Our rivers are at an all-time low following our continuing heatwave and only the very seasoned fly angler can hope for success, especially during the day, others wait until the 'cool of the evening' before wetting a line. Most of those I guide are from the USA and would have booked their day months in advance, and one must take whatever one gets conditions-wise. Two things I cannot promise are the weather and the fish, both are there, the former is down to luck and the latter is down to the angler's skill level. Bob Fish and his grandson Shane O'Callaghan are staying at Adare Manor and are here with a group of over 70 US friends and relations for a wedding. Bob had flyfished and so was able to fly solo, but Shane had never flyfished, and because of the conditions one had to fish dryfly or nymph upstream. I know fellow guides will agree with me when I say this is an advanced form of flyfishing, casting upstream, gathering line as it comes back and shooting it again, delicate delivery of fly to easily-spooked wild browns in crystal clear, almost still water....not easy! Shane had never flyfished, and one normally begins with wetfly across and downstream, a basic entry-level format. Given the conditions that was out and so I had to introduce Shane to flyfishing at the very highest level. We had a long day and at day's end he had a good grasp of flyfishing at it's most difficult....got one on the dryfly even, Pics below, click for larger image.
Bob and Shane on the Deel Bob in foreground with Shane further up the Deel Shane with his brownie
July 7th
Greg Hair and his wife Susan from Texas are touring Ireland and spent some time in Adare. They brought the good weather with them, they both fish regularly back home but had little fly-fishing mileage. Both had fish in what was a very warm day with low water on the Maigue, pics below, click for larger image.
Greg Hair tries dry fly .........and wet Susan with nice brown trout Greg and Susan Hair
June 25th
Steve Jackson from Iowa, USA and his extended family are visiting Ireland, some staying for 5 weeks with more joining/leaving in between. His grandsons Wes and Jack Garland had never flyfished and so I spent a half day introducing them today, with grandpa Steve along as photographer. Both Wes and Jack had a fish, nothing huge but enough to give them a taste for more perhaps, Pics below.
The Garland/Jackson families Wes Garland with trout Jack and Wes in action Jack, Steve and Wes
June 13th
Ron Wilson and his buddy Jim are holidaying with a US group staying at Springfield Castle and decided to split a day clay-pigeon shooting with Eddie Daly's Rosemount Shooting School and an intro to flyfishing with your's truly. The user-friendly stretch below Adare bridge is ideal for someone new to flyfishing and Ron and Jim took to it like ducks to water, a strong upstream breeze didn't help but they coped admirably. Pics below
Ron and Jim Ron, Eddie Daly and Jim
June 2nd
Nestled near Co. Kerrys' McGillicuddy Reeks and more or less between Killarneys' famous Lakes and Waterville's Currane catchment Caragh Lake might seem like the poor relation, think on! Tom Long, a regular raider of all of the aforementioned invited me to join him for a day on Caragh. Caragh Lake, probably because of it's sheltered nature rarely whips up in waves like it's neighbour Currane, essential for consistent traditional drift-style flyfishing, as a result most troll for Salmon. The Lake is fed by the upper Caragh which is a private fishery of 7 Beats and is managed by Mike O' Shea on behalf of it's owner. They also have a boat-hire on the lake with impressive moorings just below Blackstones Bridge where the upper river trickles into the 'Caol' (Gaelic-Narrow), the Caol is an 100yd wide mile-long lane (Itself a hotspot) leading into the lake proper. The Lake is roughly divided into an upper and lower section bisected by Madam's Island where it narrows to 100yds or so. The outflowing river rushes seaward into Rossbeigh Creek just on the Killorglin side of Glenbeigh village. The fishery is famous for it's Spring Salmon but also has a good run of Grilse. It has sea-trout but not in the same numbers as Currane, however since most troll and don't flyfish the lake it's difficult to know if it would be a viable proposition, lack of wave to facilitate drifting puts folk off. Our day was a fishless one but any opportunity I get to see a new fishery is never measured in fish and the almost hushed and secretive reports from this catchment are encouraging and I look forward to returning soon! Pics below, doubleclick for larger version.
Moorings Aptly-named Blackstone's Bridge The Caol Tom Long steers down the Caol Upper Lake facing towards Glencar
May 27/28th
Spencer Hodgins from Toronto is studying medicine for the past 3 years at University of Limerick and his family were here in 2011 when he started. Spencer's dad Stephen and mom Leslie along with extended family and girlfriend are staying at the Stone Barn in Adare. Delightful folk, a pleasure to know, the ladies spent a half-day touring local antiquities with me yesterday and Spencer, along with mom and dad spent a very blustery and showery morning on the Deel with me today. We had a relatively early start and it really wasn't until 1oc when we were near finished that any fish moved. The weather, true to form that it's a month behind, was more like April with it's accompanying showers, some pics below.
Leslie and Fiona Stephen and Leslie Hodgins Spencer Hodgins Spencer Hodgins on the Deel
May 22nd
Took a short walk on the R. Deel today around noon, river still a little tinged after all the rain we had but there was warmth in the sun today and we'll settle for a late Spring before we start demanding a Summer. The Hawthorn Fly is up, this is the land-originating fly similar to the ordinary housefly but with trailing legs. In windy conditions they get blown on to the water and it's always worthwhile having a few in the flybox. Bibio Marci is the scientific name since it's emergence usually occurs around St. Mark's Day in April 25th, it's called The Hawthorn Fly since it's also prevalent when the Hawthorn bushes are in bloom. Didn't see any Mayfly today although I did see a few on Sunday last, I'm wondering has it passed us by or is it just late like everything else this year, time will tell as I intend spending a few days on the water over the next week.

2 Imitation (Dry) and a natural Hawthorn Fly