2012 Fishing Reports

25th September
Kent Conner and his buddy John Hale are touring Ireland with their wives and had booked to flyfish with me today. John is a sprightly 73 and Kent, the 'young' fella's just 72. Kent flyfishes back home in Austin, Texas but John was a new recruit to the game and so we decided to fish the more accesible reaches of the Maigue, firstly down by the town bridge and thereafter above Castlerobert's Bridge. It was a joy to share a day with these young-at-heart country lovers and although the fish weren't obliging I think they enjoyed their time on Maigueside. Long may they run! Pics below,
Kent Conner fishes up the Maigue above Castlerobert's Bridge John Hale and Kent Conner (r)
2 September
Clare McGovern and her beau Chris got wed at St. Nicholas Church Adare yesterday and Clare's brother Henry joined them both for a spot of flyfishing today. They were staying at Adare Manor along with a hundred-strong contingent mainly from Virginia. Clare's new to flyfishing and so we used the user-friendly stretch below the bridge at Adare. The trout were unco-operative but we got some nice pics at least. They were marvellous company and I was honoured that they should choose to fish with me on their first day of marriage, the newlyweds will honeymoon in South Africa and I hope they have many happy years ahead of them, pics below.
Clare McGovern with husband Chris and Clare's brother Henry (L) Chris flyfishes under the watchful eye of St.Nicholas Church steeple where he was wed 24 hrs earlier
L to R Henry, Clare, Chris
30th August
George Fisher and son Peter from Colorado are spending time in Ireland and staying at the palatial Fanningstown Castle near Adare. Fishers by name and fishers by nature, both love to flyfish when they can and we delayed our fishing by a day as their original booking saw a coloured river Maigue. The Deel and Maigue were high but practically cleared following our recent bout of rain, both were running strong, normally this time of year the Deel in particular would be carpeted with weed with perhaps only 10% of the river visible. We began our day on the Deel at Ballyallinan and because of the high nature of the river decided to fish 'streamerstyle' with woolybuggers on the point and GRHE beadheads as droppers. Peter connected with a lovely half-pounder within 10 minutes of starting. We adjourned to the Maigue below Adare following a picnic lunch where Peter again connected with a brownie, we then moved closer 'home' to Castleroberts, and again Peter was on the mark with another brown. Conditions were not great for flyfishing today but we rang the changes and 3 fish was not bad, and George and Peter were delightful company, pics hereunder.
28th August
Barry Kessler from Texas and Matt Korcinsky from California are here in Ireland to support Notre Dame in the American Football game in Dublin next Saturday and took time out to tour Ireland. They travelled up from Killarney early this morning to spend a half day fishing the Maigue with me. Conditions were not great, the water was highish and a little discoloured with no evidence of fish feeding. We began near the village where both had 'pulls', Matt losing one at the net. An incoming tide around 2pm forced us upstream to Castleroberts where the guys again had a pull or two but alas no fish. The wind strengthened around 4pm when we decided to call it a day, pics below.
Matt Korcinsky deep-wades a high Maigue Barry Kessler above Castleroberts Barry Kessler and Matt Korcinsky above Castlerobert's Bridge
August 8th
Riccardo Romolini and his family from Tuscany are holidaying in Ireland and travelled from their seaside letting in Asdee, North Kerry to fish at Adare. Riccardo was joined by his 12yr old son Danilo and neither had ever caught a flyrod until now. We fished below the bridge following low water at 2.30pm, it was overcast with heavy showers but that didn't deter our intrepid Italians. Flyfishing, dad Riccardo had several brownies and Danilo caught a nice Roach on the fly also. Pics hereunder
Danilo Romolini Riccardo Romolini unhooks a trout Fishing down the Maigue at Adare Danilo and Riccardo Romolini
July 15th
Kunio Katsura and wife Yuko, both from Tokyo are in Ireland for a year whilst Kunio pursues a Masters in University of Limerick. Kunio had done some flyfishing back home in Japan but wanted to try his luck here whilst wife Yuko was a keen beginner. They were delightful company and Kunio managed to net a few fish into the bargain, pics hereunder.
Kunio and Yuko Katsura on the Maigue at Adare (Top), and above, Kunio brings a trout to net
July 6th
Out with Parisian Hugo Phillipon again today, conditions a little better but water still high and coloured on both Deel and Maigue, we had some nice trout below Adare to well-sunk wet flies and beadheads, Pics hereunder
Getting ready Where the Deel meets the Sleenawn Under Ballyallinan bridge
July 3rd
Was out with Hugo Phillipon from Paris today, Hugo is here with the Limerick based Language Travel Ireland whereby students from France or elsewhere come to Ireland to learn English over a 3-week period ( A perhaps unheralded example of enterprise which contributes in a multi-faceted way). Conditions were poor with very high coloured water at Adare on the Maigue. Although he has flyfished a bit with his father the aim was to introduce Hugo to flyfishing and water conditions were of secondary importance. Although just 15 years and on his first trip to Ireland which he already loves, Hugo is a credit both to his country and his generation, a nicer and more mannerly young man I've yet to meet. He's been well looked after by host-family Roseanne and Pat Dunne in Ballyclogh who I'm sure will vouch for the above. Pics hereunder
June 25th
Tom Long sent me this pic hereunder, just one fish of many he had from the River Feale in the past week. This particular fish was 13lbs and came from the North Kerry Angler's water. Tom tells me that there seems to be a late run of Spring fish as many of the fish being taken are in double figures. It would be hard to find a cleaner or fresher fish than below, a veritable bar of silver.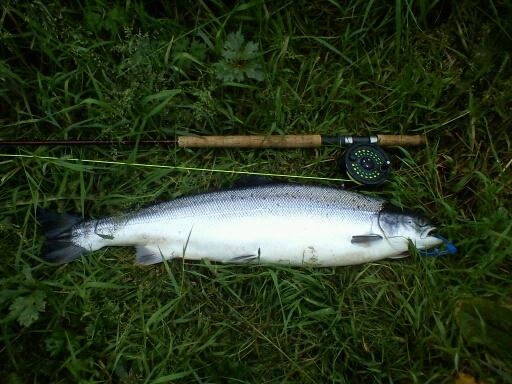 Tom Long's 13-pounder from the Feale
June 17th
Lon Teter and his 14yr old daughter from New York are in Ireland for a short break and Lon takes his flyfishing gear everywhere. A man after my own heart, Lon loves the traditional cane rods and has reels of similar vintage to match. Both he and Nora were fishing with Orvis cane rods, Lon's paired with a Hardy Perfect reel and Nora's with a JW Young's Beaudex made for Orvis. Conditions were not great but it was their last chance to fish since any fishing was out for the first 3 days of their stay. The Maigue at Adare was the only water I thought might be fishable, it was running too strong for wading further upstream. The water was clearing a little and the only hope was to fish any slack water off the still high river, we fished streamers on sink-tip lines. Lady luck struck and Nora bagged herself a nice brownie on a brown woolly-bugger, Pics hereunder.
Nora and Lon Teter A heavy Maigue Nora with her nice Brownie
June 13th
Hereunder is what draws anglers time and time again to Lough Currane, Waterville. It's a 9lb 2oz Sea-trout caught by Dave Ecclestone of the UK on June 13th. It took a Black Pennel at 'The sisters' . Well done Dave.
Dave Ecclestone and his 9lb2oz sea-trout
June 12th
Brian Minette and son Riley from Utah, USA were staying at Adare Manor and tried their luck flyfishing the Maigue and visiting some local sites.
June 9th
We had a month's rainfall on Thurs/Fri this week, badly needed in Waterville as the rain of previous weeks had by-passed it. Hereunder is a pic of the Maigue at Castleroberts on Friday, a banker of a flood. This will refresh the systems and bring fresh salmon and sea-trout inwards, good fishing should ensue in the coming weeks.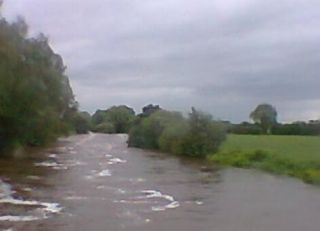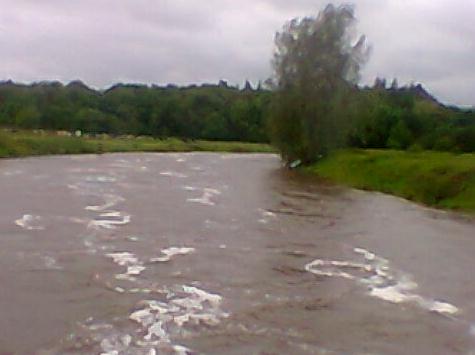 The River Maigue upstream and down from Castleroberts bridge 08/06/2012
June 6th
I've always wanted to fish Lough Currane in late May/early June but never got around to it. Looking back on past fishing reports in Trout and Salmon magazines reveal this is a choice time to visit. Not that I needed a reason, Waterville draws anglers like a magnet, and the lake, its' features and it's fishing haunt me.These days I tend to travel to and fro on the day, staying overnight is okay but the temptation of the hostelries means a sore head on the lake next day. Anyway, news from my fishing buddy Tom Long who often spends a week at a time there, was that there were Wallopers aplenty but the lake was low. A flat lake and a midge-infested stillness greeted my arrival, Tom threaded the trolling rods since flyfishing would be out, at least until some semblance of a breeze arrived. We broke for lunch around 1.30pm, having trolled fishless for a couple of hours. The lake began to ripple whilst we lunched on an island and the ripple graduated to a soft wave, we set afloat again, this time flyfishing. Clouds were all around but alas, not over Currane. Then for a brief time we got some cloud cover and on a drift towards the 'Daniels' a 'walloper' came to my middle fly, a 'Pennelty'. Hooking a 3lb sea-trout on a lake such as Currane, where he can go as he pleases, jump as he likes and keeps your heart in your mouth until he's netted, for me personally is the best flyfishing has to offer, rivers I find too limited and claustrophobic and a fish rarely takes you into the backing on a river. Pics below
PS The Pennelty fly mentioned above is my idea of a Black Pennell tied a la Tony O' Sullivan who boated Bill Rawlings in the 70's on Currane. They enjoyed a red-letter day once with this tying when all others had blanked, and if one reads between the lines in Bill's book, The Great Salmon and Sea-trout Loughs of Ireland, the Pennelty (I've put ty at end for Tony) dressing is given on page 24. Below is the dressing as I deciphered it. Sadly Tony O' Sullivan was lost to drowning on the lake he knew so well. Pennelty dressing as follows: Tag: Flat silver tinsel Tail: Golden Pheasant tippet Body: Black Seal's fur teased out Rib: Broad silver oval tinselHackle:Palmered black cock. I also finish with a slightly longer black hen hackle at the head, two turns is enough just to sweep back over and under the palmered hackle.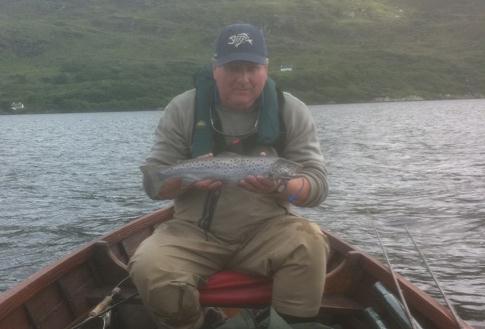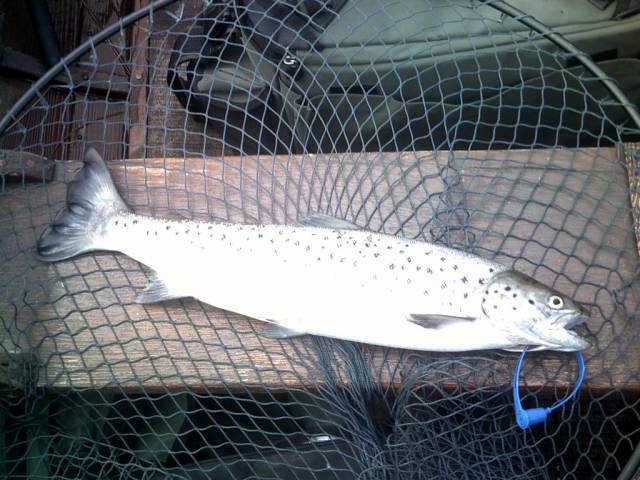 Your's truly and a 3lb 'walloper'
May 10th
The Mayfly is in full swing at the moment, what makes it so appealing is that the Mayfly is perhaps 3-4 times the size of your average dayfly such as the Iron Blue or Blue-winged Olive. Where the Mayfly hatches in sufficient numbers good sport can result and the weeks of the hatch are often termed The Mayfly Carnival. Otherwise sane men desert their offices, places of work and families when the 'mayfly is up'. So far no cure has been found for this disease. Some lakes and rivers experience earlier hatches than others and so one could follow the 'Carnival' for a month or more. Lough Derg on the mighty Shannon is one such early water and I received proof-positive in the shape of an i-Phone pic from buddy Tom Long that things are hotting up down there, the photo speaks for itself and the caption is Tom's own.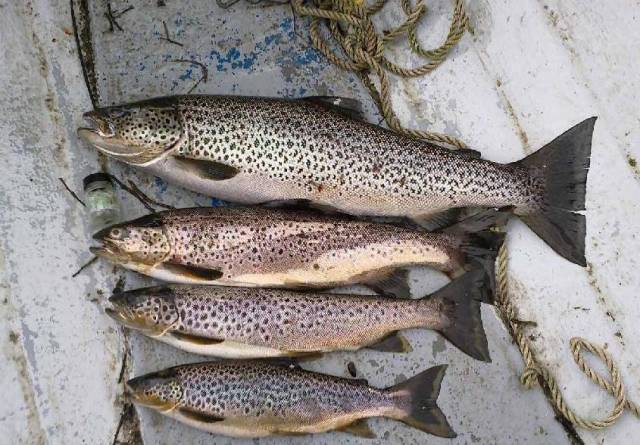 'A fine catch this evening on lough derg including a six and a half pounder on the dry fly by a good friend of mine Darren Gardiner'Tom Long, via i-Phone
April 19th
1.30pm - Just had a call from my brother Peter who's fishing the Feale today with sidekick Dinny Barry.Both killed very fresh salmon in the 10lb range. Both got their fish on the fly and will be chuffed to open their seasonal account.The broken weather of the past week was bound to move fish, the Maigue was high and coloured yesterday when I passed and further showers can only augur well for water levels for a week or so anyway. The boys got their fish in the same run, below the 'Rock' which is in turn below the 'Yanks', Abbeyfeale club members will be familiar with these pools which are 3-400yards above Kilmorna Bridge.Patsy Willis and Mike Sheahan were fishing the next pool down from the boys and had no luck, salmon fishing has a lot to do with being in the right place at the right time, particularly on a spate system such as the Feale. The boys are thrilled to bits and so they should be having braved the April wind and showers. Happy retirement guys! Pic below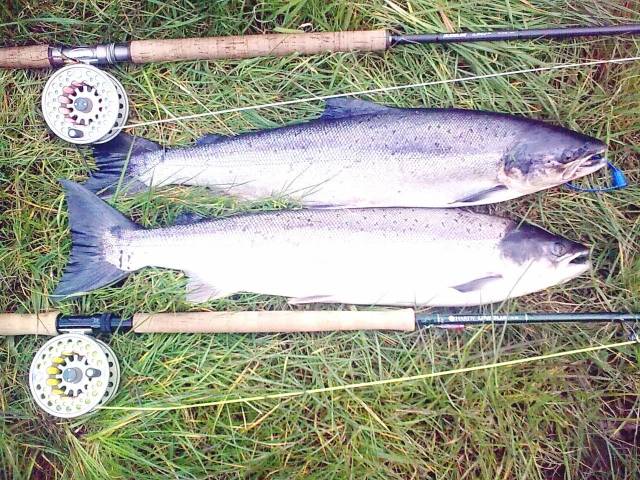 Peter Dunworth and Dinny Barry's fish from the Feale .PS The lower fish was tagged following the photo
April 11th
Persistent rain on Monday and some on Tuesday has freshened the rivers following a dry spell. April showers means it can be like summer one minute and winter the next. I was guiding Guy Voglino from New Jersey on a half-day outing today. Guy was new to flyfishing but got a handle on it pretty fast, the conditions got the better of us though I did get a half-pound trout myself when I fished the last 30mins or so with Guy. The water was coloured and high and no trout were feeding on the surface, the day got gustier as the afternoon approached. Guy and his wife Anne-Marie are here with their 3 daughters, all first-time visitors. I hope they enjoyed their trip and that Guy continues to flyfish.Pics below Postscript-Piscator Non Solum Piscatur. ("It is not all of fishing to fish"). This is the motto of the Flyfisher's Club founded in London in 1884 and how true it is. In the 4 or 5 hours we spent outdoors today both Guy and I saw in this order, Red Squirrel, Cock Pheasant, Hare, Heron, Kestrel, pair of Mallard as well as a multitude of more common species.
Guy and Anne-Marie Voglino Guy fishing the confluence of Deel/Sleenawn Guy meets some of the 'natives'
April 8th
There are spring tides at the moment, spring tides occur all through the year and have nothing to do with the season Spring. It's thought spring tide gets it's name from the German Sprungen which means leap or jump and these high tides occur when the Moon and Sun are in line and thus together exerting a much greater gravitational pull. Tom Long is a fishing buddy who featured in these reports before and with whom I hope to spend a day or two with on Caragh Lake or Lough Currane later in the season. He made his seasonal debut on Caragh Lake yesterday and true to his word sent me an Iphone email of a boated spring salmon of 8lbs, and lost a 3lb sea-trout at the net. Trolling is very much the order on Caragh Lake, especially this early in the season, it's a free lake and set in wonderful scenery beneath the Magillicuddy Reeks, hidden away, one of Ireland's best-kept secrets. Like Lough Currane it's close neighbour, the salmon and sea-trout have but a short river to negotiate until they are in the relative safety of the Lake, the upper river is controlled by Glencar House Hotel. It's not flyfished much for salmon, and is not as renowned as Currane for it's sea-trout, perhaps if it was fished as much it would gain a reputation.....shhhh, whisht will u !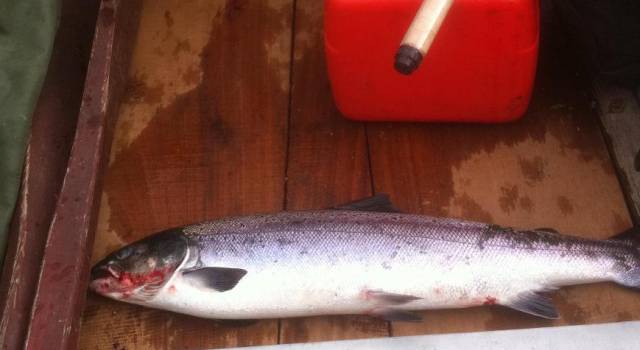 Tom Long's 8lb salmon from Caragh Lake
April 2nd
Richard Boothby-Ellis hails from Australia and was taking a break here in Ireland and staying at the very hospitable Fitzgerald's Woodland's House Hotel outside Adare. Richard is relatively new to flyfishing but he works in a high-pressure job and has a wealth of fishing in his native Australia, he travels to New Zealand and Tasmania to fish also. We fished the town stretch of the Maigue first before moving upstream to Castleroberts where we had a leisurely packed lunch. The Maigue is shaking with Salmon smolts right now, we sometimes had 2 to our 2-wetfly casts. It's a little early for them to be heading seaward but heartening all the same to see so many, the future of the Maigue as a salmon fishery seems secure.......if the powers that be ever decide to open it again. Richard also had some small browns and with temperatures a tad cooler than last week fly hatches were sparse, a scattering of Iron Blue Duns were evident from 2pm. Pics below
Richard Boothby-Ellis fishing the Maigue
March 27th
First guiding day today, and what weather we're having right now, more like mid-May with warm sunshine and temperatures touching 20c. Bill Balkovetz from the USA is a man who loves to flyfish and he and his wife Allison were on a well-deserved break here in Ireland. Bill doesn't get to fish as often as he'd like but was as keen as mustard. We started on the Deel which was low for the time of year, and quite clear. Because of this we opted to fish upstream wet-fly and it wasn't long before Bill was connecting with small but lively browns. We finished about 12.30am and headed back to Adare to fish the Maigue, stopping midway for a nice bacon and cabbage lunch in Croagh. The Maigue was also quite low but without the weed which can spoil sport and which will no doubt be well up come May. Bill continued to meet fish, this time we fished wet downstream, and it was noticeable that he also had a couple of salmon smolts, a bit early for them to be backing down towards the tide, but then again everything seems earlier this year following a very mild Winter. Some photos would normally accompany my reports but alas a new camera caught me off-guard and those I took came out poorly. Bill was very understanding about that and he was exemplary company, I hope he and Allison enjoyed their all-too-short stay and that he will continue to enjoy his flyfishing, maybe even return for more bacon and cabbage and 'Paddy' whiskey!!
Bill Balkovetz with trout on the Deel (Apologies for pic quality)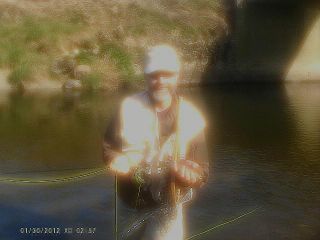 March 3rd
The river Feale opened for salmon on Thursday last March 1st and I'm happy to report there was a springer caught just above Listowel at Ballinruddery. The captor was long-time Feale angler Patrick Lenihan who hails from much further upriver Brosna, pic below. This would be typical in that anglers this early in the season would travel to fish the river stretches nearer the tide as it can take some time before fresh fish make it to the middle and upper reaches of the system. When water temperatures are low fish tend not to travel much and barriers such as falls and weirs can hold back fish until water temperatures rise.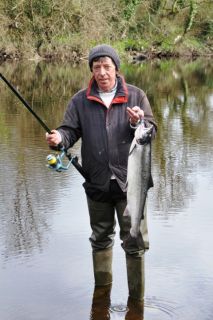 Patrick Lenihan with his opening-day spring salmon
February 28th
Another mild day today, Spring seems to have sprung although the week-end is to turn cool again. March and April can be very changeable and even when temperatures seem calm and mild at home it can be a different story riverside. Rivers by their nature are natural wind channels and so many anglers are surprised to see much fresher conditions when they reach the riverbank. My salmon club water, the R. Feale opens thursday next March 1st, I have old Trout and Salmon magazines going back as far as 1956 (1st printed in 1955) and the Feale used to feature in the (Irish) fishery reports back then. It was not unusual for a hundred spring salmon to be taken on opening day, but since Spring fish have steadily declined over the past 40 years it's only the odd fish that would be taken in March. Indeed, it's usually April before any Spring fish are caught in our waters which end about 3 miles dowstream of Abbeyfeale. Sadly, it now seems that the decline of the Spring salmon and indeed of the Atlantic salmon in general, is not caused by overfishing at sea or the cumulative effect of draftnets/driftnets etc.; scientists now believe the decline is related to a contraction of the feeding grounds probably caused by global warming. The former, if it were the case could be rectified, the latter is probably irreversible. It's a frightening scenario which will hopefully make Nations take notice and it's a damning proof that detrimental changes in nature can come about in a relatively short time-span. I usually don't fish for salmon until April, I don't like hooking the few remaining spent fish who still have not made it back to sea. Likewise with the more predictable and ever-present brown trout, March is early enough to sally forth with the flyrod, and wait for a nice mild day. The trout are recovering from the travails of spawning also and need time to regain condition, I rarely keep fish nowadays and probably get more satisfaction from releasing fish than I ever did from killing them, been there done that! Should you have stumbled onto this page and are reading this may I wish you well for the season ahead, take time to drink in the beauty of your surroundings and don't get too hung up on catching and killing...the fish will take better when they know you'll release them !
February 20th