Note: 95% of the fish photograhed would have been returned to the water alive, only rarely do we keep a fish.
2011 Fishing Reports
October 8th
Since the sea-trout season again closes on Oct. 12th in some of the Kerry systems I planned one last trip to Anascaul Lake. Having checked my Angling Guides and with Michael Hennessy, Angling Officer with the SW area of Inland Fisheries Ireland I satisfied myself this fishery was indeed still open (Catch and Release/fly only) and it was a murky and foggy Dingle peninsula that greeted me around 10.30am this morning. The weather was clear however for the last 3 miles or so drive upwards from the village of Annascaul to the lake itself. The wind was from the Southwest, ideal for fishing from the inflow to the carpark and I began at the inflow and was heartened by the sight of a salmon throwing himself halfway towards the carpark. Sea-trout were the target but there's always the chance of a salmon as they are fellow-travellers and where one finds one, one usually finds the other. I was fishing my Temple-Fork 10ft 6wt rod with a team of three flies on a 6lb cast. I got into the rhythm of casting whilst wading 15 or 20feet out from the shore, stripping the flies back as one would loch-style from a drifting boat. On a cast parallel to the shore I was working the flies back and lifting into the 'dibble' when I noticed a small rise to the flies, I thought it to be a wee brownie as it was only 2 rod-lengths away. On raising into the fish though everything went solid and I saw this enormous body turn away. It powered away from me tearing line from the reel, it paused momentarily...but only to change gear, and in no time was into the backing, my whole 30yds of flyline was underwater and the small size 12 hook could not cope with the pressure which that presented, the fish which was still running....alas, was no more as the fly lost it's hold. My first stillwater salmon and it was only right it got away...it would have been put back in any case, but the sheer power a salmon has in large open water is different totally to a fish hooked in a river where its' options are limited. In hindsight I should have raised the rod in an effort to keep as much flyline clear of the water as possible but everything happened so fast I didn't have much choice. The pic of your's truly below at the lake a few seasons ago has locations marked for anyone wishing to try their luck at Anascaul next season perhaps....it was a 4 hour roundtrip for me but worth every bit of it for those 2 magical minutes.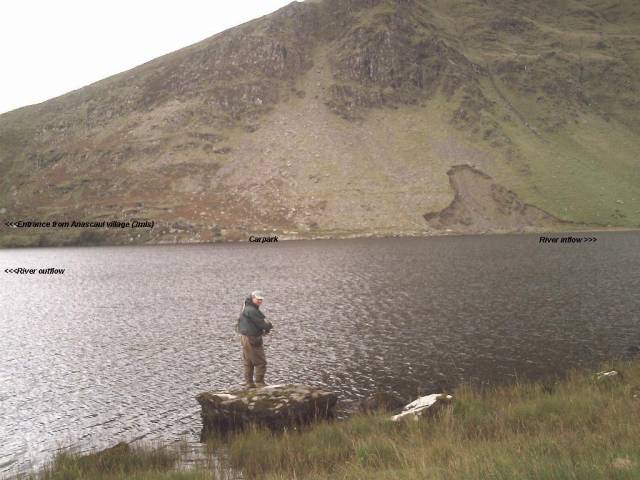 Anascaul Lake
October 2nd
Salmon and Sea-trout fishing usually close together on September 30th, however in some fishery districts there used to be an extended close date for Sea-trout of Oct.12th. Due to the decline in sea-trout stocks in the 80's in particular it was decided to close the season on Sept. 30th. Sea-trout have survived thankfully and are back in good numbers and sizes on Waterville Lake anyhow, the fisheries further north in Galway and Mayo I cannot speak for, they were harder hit than most by the decline since there was a large concentration of salmon farms off their coasts. I was looking forward to a final day on Currane, Friday 23rd Sept had been earmarked but wild conditions kept us ashore. However as the season was extended to the old Oct.12th close date yesterday became plan B and wouldn't you just know it, conditions were too calm, the lake was practically a mirror for most of the day. I did have one Junior (small sea-trout) and some browns but Tom Long and I spent some time watching lots of brown trout hoovering small black gnats, the lake was littered with them and it's only in a flat calm that one can appreciate this. It put me thinking that the frenzied gnat-feeding antics of the brown trout could be the catalyst that spurs their sea-going brethern to activity. Sea-trout are unpredictable to say the least, just when you think conditions are right, they'll tell you otherwise but from what Tom and others have told me it's often a case of who dares wins and the really very wild days can be the best. Some pics below
St.Finan's Church (12c) on 'Church Island', Lough Currane Flat calm and a close-up of the Church
The trusty timber clinker-built boat anchored for lunch at Darby's Island Tom Long at the helm, season's end and homeward bound .
August 30th
Steve Heeringa has been on a busy lecturing and conference tour of Ireland and today took time out to indulge his love of flyfishing. Steve's from Michigan, USA and has a wide variety of fishing there. We started on the Deel below Rathkeale and it was surprisingly quiet, hardly a fish stirring, there's a noticeable autumnal chill in the air and methinks the trout, like their cousins the salmon are now focussing on the Winter breeding ahead, sated after a bountiful 'Summer' their minds turning to sex! We adjourned to Castleroberts where we had a packed lunch before heading upstream, there were fish rising here, not in huge numbers and with the water so low it was hard to deceive them, Steve did connect with a decent pounder though and it came off at the net, it was going back anyway.........a camera-shy trout no doubt! Pics below.
Steve Heeringa works up the Deel with the dry fly Steve lifts into a nice wild brownie on the Maigue
August 24th
Fished Lough Currane today for the first time in too long, conditions seemed perfect, intermittent cloud and rain, just a nice wave and S.W. wind. I was out with pal Tom Long who's a veteran of the lake and knows his way around, we had made some earlier attempts to team up but the weather or something else got in the way. We flyfished for 2 hours without a rise before retiring to the tiny Holly Island for lunch, Dominic McGillycuddy, a top ghillie who could put you over choice lies blindfolded was already there with the volcano kettle spitting boiling Currane water skywards. He was guiding a client from England and they had one grilse (losing 2 others) whilst trolling early that morning. We drifted into Coppal bay after lunch and spent another hour in that area, again without a rise, we were in good company however, the reigning champ Sean Smith (see June 3rd) along with his ghillie Neily O'Shea were drifting just ahead of us. There was probably 10 boats or so fishing, almost all drifting but none seemed to be doing the business, that's sea-trout for you....moody f....rs, pics below.
Able boatman Tom Long Drifting towards the eastern (Edere Bay) shore of Currane
August 13th
Bo Harris hails from Maine, USA and is on vacation with no fewer than 18 of an extended family. Bo had a yearn to fish in Ireland and so today we fished the Deel in the morning and the Maigue in the afternoon. He had 4 lively wee trout to the dryfly fishing up from Kilcoole Bridge, the trout were none too co-operative at Castleroberts though but I think Bo enjoyed his taste of flyfishing two Irish rivers. Bo's wife family (Houlihan) have connections in Co. Clare and he himself was delightful company. I look forward to seeing him back again, next time for a dedicated flyfishing break with some buddies perhaps, Pics hereunder.
Bo Harris brings a trout to hand underneath Kilcoole Bridge and Working towards a weir on the Maigue
August 9th
French youth Ylan Dahman is with me again for 2 sessions this week and he didn't forget what he learnt last week...within 5 minutes of starting this morning he had a nice wee brwonie.
August 4th
Ylan Dahman from France with a brown trout and a roach, both taken (and released) on the fly.
August 2nd
Ylan Dahman is a 13yr old French garcon over here to learn English for 2 weeks, host families look after them and give them English lessons. They are also offered activities, flyfishing being one, and we had our first of four 2-hour sessions today. Ylan has some English and I have some French so we're getting by and he took to the flyfishing well, today was mainly about casting but hopefully before he's finished we might have a trout to photograph, pics below.
Ylan Dahman
July 28th
Tony McFadden drove down from Ballyvaughan, Co. Clare for a day's tuition. The day was dull but dry and we concentrated mostly on casting, Tony could have a variety of flyfishing on offer with saltwater prospects in Ballyvaughan, small spate systems nearby, and Connemara and Galway just an hour away where he'd be spoilt for choice. Tony was delightful company, an excellent student and I'm sure he'll enjoy many happy days with that very nice flyrod which saw light of day today after 15 years of waiting, better late than never....eh Tony? Pics below.
Tony McFadden
July 7th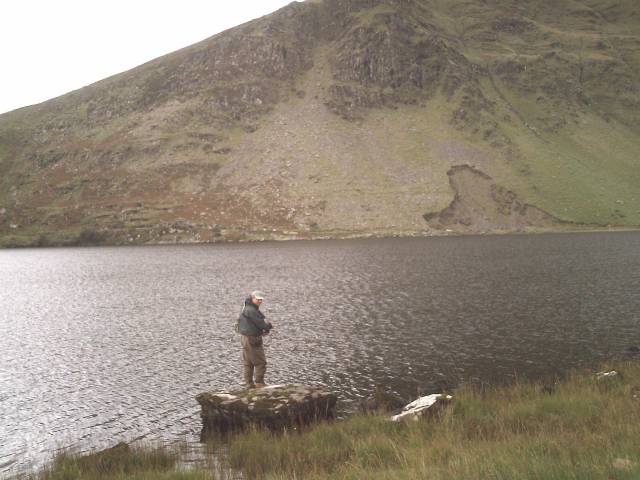 Pictured above is Annascaul Lake which is at the head of the Annascaul river that empties into the Atlantic near the Red Cliffs on the Dingle side of Inch. It's a small system but gets a run of sea-trout and the odd Grilse after summer floods. There's no boat on the lake, indeed it can be fished by wading , and if there's no co-operative sea-trout about there's a resident stock of small browns to keep one occupied. I'm pictured above on the far side of the lake, with the small carpark just opposite. A great place to spend a carefree few hours and Annascaul village itself is home to the Southpole Inn once the home of Tom Crean of Shackleton/South Pole fame. It's open for 'catch and release' fishing only at present and considered free...but don't forget, one needs a State licence when fishing for Salmon and Sea-trout.
29th June
Guiding Andrew Delohery and Bob Smart today, both are visiting professors to UL from Quinnipiac University, Connecticut...and no better company could one have. Weatherwise our day started showery but things soon brightened up, Andrew flyfishes regularly but Bob hadn't handled a flyrod in 30 years. For this reason I decided to ease them into the fishing by starting below the bridge at Adare. Andrew had a nice brownie here and both had takes aplenty. We ate a hearty lunch in Croagh before heading for the Deel at Kilcoole, here I had to put Bob fishing upstream, not easy for a relative beginner, but he proved equal to the task and had a nice wee trout to the PT nymph, Andrew lost a good fish, and had some more offers, also to the nymph. Pics below
Andrew Delohery Andrew & Bob Bob on the Deel Andrew & Bob at Kilcoole
June 8th
Had a half-day introduction to flyfishing today with 2 local lads, Donal and Shane. Again used the Adare stretch on the Maigue where there was a strong upstream wind sometimes accompanied by cold showers. Extremely difficult conditions to learn in but then again the guys learnt how to cope with casting into a stiff wind, they were fast learners and I hope they continue to travel the flyfishing road. They both hooked fish but nothing sizeable, pics hereunder.
Shane Donal Shane(L) & Donal
June 4th
Out with Gary Dubiel and his girlfriend Michelle Lilly today. Michelle's new to flyfishing and so we used the user-friendly location below the bridge at Adare. Michelle had watched Gary and Brian Shumaker deliver casting lessons on many fishing shows in the States and it certainly rubbed off as she took to flyfishing in no time. She had a lovely Dace of almost a half pound. See pics
Gary Dubiel at the 'Castle' Michelle with a brownie ....And a nice Roach Michelle & Gary at Adare
June 3rd
Fellow-fishers who know me will be aware that species-wise sea-trout are my favourite quarry and Lough Currane in Waterville is the home of big sea-trout here in Ireland, so it gives me great pleasure to include here a new record for that hallowed lake (26/05/2011). The fish weighed 13lbs5oz and took a Bibio, very apt since it's probably the fly most associated with Currane. The captor was Sean Smith from the UK and the ghillie was none other than Neil O' Shea, a legend on Currane. The fish took 40mins to land, congratulations to all concerned. It's been far too long since I fished Currane, a source tells me it's fishing brilliantly at present with a great stock of 'wallopers', those acrobatic 2-5 pound sea-trout typical of late May early June. Consider this, I've often hooked a 2lb sea-trout thinking it may be a 5lb salmon....never vice-versa, pound-for-pound the sea-trout is the gamest fish on this planet, ask anyone who's hooked one in the eerie dead of night whilst fishing a spate river, one minute it's downstream....next it's 10yds upstream and more in the air than in the water. I'm hoping to get a day or two on Currane very soon....can't wait!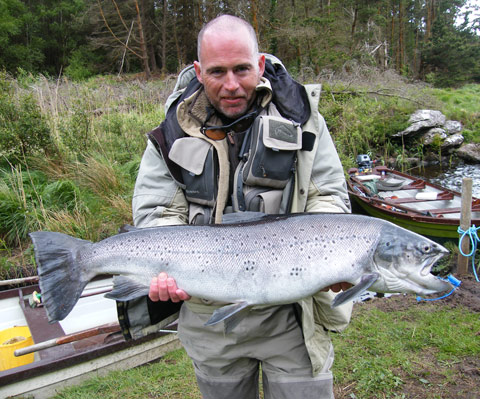 Lough Currane's new record 13lb5oz sea-trout with captor Sean Smith, UK.
June 2nd
Gary Dubiel operates a saltwater fishing guiding business (www.specfever.com) out of Oriental, Nth. Carolina and he and Pennsylvania guide Brian Shumaker( http://www.susqriverguides.com) travelled up from Waterville to fish with me today. It's Gary's 3rd trip with me and both he and Brian were testing some new Temple Fork flyrods for Rick Pope who owns the company. We began on the Deel above Kilcoole where both had fish to the nymph and dry fly. Things were slow until noon when some fish came on the move. We adjourned to the Maigue above Castlerobert's Bridge after lunch and Gary had a couple of fish to the dry fly here. The day was warm, the river is back to low levels following recent high water and all-in-all I think the guys enjoyed their day, they were fantastic company, I guide Gary again on Saturday along with his girlfriend Michelle. See pics
Gary Brian Brian with a Deel trout Gary(L) and Brian

May 24th
Kass Hamby and Veronica Oberdorf are visiting Ireland for the first time and were staying at the Dunraven Arms en route from Killarney to Galway. My good buddy Gary Dubiel of Specfever (www.specfever.com) in Oriental, North Carolina along with Lefty Kreh and Wanda Taylor had given them introductory flycasting lessons at a Fair in the US and Gary had directed them my way. The girls freely admitted they were total beginners and following the stormy conditions of yesterday prospects for learning did not seem great. The weather in Ireland can change so fast however and we had a wonderful day, first before the tide caught us between the bridges at Adare and again further upstream at Howardstown. The girls took to the flyfishing like ducks to water and I am sure will continue to improve as they are very keen. We rounded off our day with a visit to a few heritage sites, they were great company and I hope they enjoyed the 'craic' ...not to mention the 'craythur'. See pics
May 17th
Reid Litchfield is a Medical Doctor and consultant originally from Alberta, Canada, now based in Henderson near Las Vegas, he's a passionate flyfisher but by his own admission lives in the desert and does not get many opportunities to indulge his passion. He and his wife are having a well-earned break here in Ireland and Reid fulfilled his wish to flyfish in Ireland today, and no better company could one wish to spend a day with. We started our day at Kilcoole and as the morning progressed and warmed the Mayfly began to hatch, Reid had half a dozen fish, mostly small , to the Green Drake. We rounded off the day on the Maigue at Castleroberts and between the bridges at Adare, we lost a good fish of a pound or so to the PT nymph at Castleroberts. See pics.
Will he/won't he? Kilcoole Reid with a Deel trout to the Mayfly The Maigue above Castleroberts
May15th
Graham and Jason Pobjoy's second day with me was a short one as I had to have them at Shannon Airport at 3.30 for their return flight. The plan was to fish the Adare stretch for an hour or so and then move well upstream to Howardstown near Bruree. Our plans were thwarted somewhat and so we stayed in Adare altogether and fished between the bridges in the still high but clear water. There was a strong upstream wind which didn't help tactics but both Graham and Jason had fish, see pics. Photo sequence of their 2 days at http://animoto.com/play/S7My7cOGvFrwE14jZehBYw with thanks to Susan Pobjoy.
May 14th
Graham Pobjoy brought his son Jason to Adare as a 40th birthday treat with 2 day's fishing included. Both live in Hampshire, home of the hallowed Itchen, Test and Avon. They are avid flyfishers and fish their local Whitewater river. To get a handle on their casting and experience levels we first fished the Maigue between the village and railway bridge. The river, although still high from recent rain, was clear if strong. Jason had a few small fish at first but half way down connected and released a half and a three-quarter pounder, the birthday boy was happy. We headed for Kilcoole Bridge on the Deel and lunched there before striking upstream. The Deel was still coloured and running high and again the mayfly were in evidence, but alas not so the fish. The high, coloured water really puts them off their game and we gave it best after an hour. We then headed back to the Maigue above Castlerobert's Bridge. It was running full but clear and again very little fish activity, Jason did have a small fish before we called it a day. See pics
Graham and Jason Pobjoy Graham and Jason fish up a high Maigue just above Castlerobert's Bridge
May 12th
Mick Newnham from Sudbury in Suffolk, UK has connections in the Cappamore area and visits regularly. Mick has one eye on retirement also and this combined with his visits to Cappamore prompted him to have a go at flyfishing. Conditions were not great, welcome rainfall over the past week meant high and coloured water on both the Maigue and Deel, the latter more so. Conditions did not rule out fishing altogether however and we met at Adare and I gave him his first flycasting lesson just below the bridge. There was a strong upstream wind but Mick took to this new discipline like the duck to water, he has some seafishing under his belt and I always find that folk who are interesed in one discipline will invariably be interested in another and will over time have taken a lot of info on board by watching fishing dedicated channels on Sky etc.. The incoming tide meant we had to adjourn to the Deel and it was more coloured than the Maigue, but a little more sheltered. Mick's day was more about learning to flyfish rather than catching fish and whilst a few hours is a short time to impart flyfishing skills he really did cast a good line by day's end, hopefully Mick will now take the plunge and invest in that flyfishing outfit and have many happy days fishing thereafter. PS It was again heartening to see the Mayfly hatching on the Deel in much bigger numbers than heretofore...but the high and coloured water meant there was a virtual absence of rising fish. See pics below
R.Maigue Lunchtime R. Deel R. Deel
May 10th
Following a prolonged dry spell we've had very broken weather in the past week, with more of the same forecast. My local rivers Maigue and Deel are high and coloured right now, and I'm hoping for clearing water as I guide for trout on Thur/Sat/Sun.The first flood after a long dry spell brings a lot of the dust and debris down, thence the dirty muddy colouration. Subsequent rainfalls usually result in cleaner floodwater. I always like to have an alternative Plan B up my sleeve when such floods make flyfishing the rivers difficult or out altogether. One such Plan B was Tarbert on the Shannon Estuary, the back of the electricity generating plant at the hotwater outflow was a hotspot for Seabass. However, the closure of the plant means this has all changed. I travelled there today to see how it would fish without the all-important hot water outflow. The result is an almost total absence of moving water and an accumulation of weed round the mouth, I spent 2 hours spinning and flyfishing and did'nt see nor touch a fish. There is construction work going on and hopefully the new owners will have the plant back in operation soon again, it's to be gas-perated rather than oil-operated this time around. It's a long drive with a dodgy backtrack to the shoreline...but when someone has booked their fishing day months in advance it can often be the only chance of fishing....unless we go digging for worms!!!
May 6th
Out with Turlough Herbert today, Turlough and his brother John run a busy Solicitor's practice in Limerick. Turlough is a former Limerick hurler, and he's as adept with his G.Loomis flyrod as he was with a hurley, and needed to be as conditions were pretty tough today. Turlough wanted me to introduce him to the River Deel and having shown him various access points we settled at Kilcoole to fish upstream from the bridge. There was a wicked downstream wind and we had no option but to fish beadhead Pheasant Tails which kicked into the wind, things were a bit slow but nearing 11.30am mayflies started to hatch and the hatch increased from noon. It's heartening to see the mayfly back in sufficient numbers to bring the fish on. Turlough had 2 nice fish on the PT and also on the dry Green Drake. We adjourned to the Maigue at Castleroberts for the late afternoon and Turlough done the business here again getting 2 lovely fish on the Beadheaded PT, and connecting momentarily with another good fish. All in all Turlough acquitted himself admirably, others would have looked at the conditions and gone home. Turlough took out membership on the Deel and I wish him many happy days on it. PS Apart from the strong downstream wind the water had freshened and risen on both the Deel and Maigue following recent rains . See pics
Upstream nymphing on the Deel One from the Deel And another R. Maigue A nice fish from the Maigue
May 3rd
Stuart Hamilton drove down from the shores of Lough Derg to join me today, his son Robbie had gifted him a day's flyfishing for his birthday. Stuart divides his time between his native Dublin and Dromineer. He's not new to fishing but he is new to flyfishing and wanted to get a handle on it as the Mayfly is now well up on Derg. The day was more about casting tuition rather than catching fish but he had some small browns as we practiced, one nice specimen towards day's end. It was an intensive introduction as we had to cover lough-style flyfishing, working the flies back towards the boat and shooting the resultant slack line, not an easy method to pick up. Stuart is trying out his new skills on Derg tomorrow and I wish him well as he flyfishes into the future. See pics
April 30th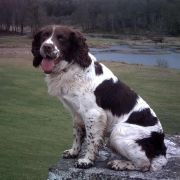 Jake
It's another bank holiday week-end and like many others I loaded up my springer spaniel Jake and headed for Ballybunion, compensation of sort for keeping him cooped up in his pen whilst I spend my day's guiding or fishing. It was another glorious day with temperatures reaching high teens, warm for Ireland in late April. Ignoring the busy town beaches, preferring instead to head for the Cashen carpark from there one may join the Feale for it's final 4 or 500yards journey to the Atlantic. The tidal reach of the Feale is called the Cashen and extends inland for 10miles or so, almost up to Listowel. Tidal reaches are sometimes difficult terrain-wise to fish, mudflats and weed, and it's a bit of a lottery knowing which stage of the tide to fish, some say 2hrs +and - high-tide, others 2hrs + and - low tide. One needs to keep a diary in order to arrive at conclusions as to best times and best places, painstaking reconnaisance resulting in valuable information to be shared only with ones' best buddies. Fishing for migratory fish such as salmon and sea-trout is becoming expensive and the rivers which they run are invariably spate systems, dependent on rainfall to deliver best conditions. These conditions may be few and far between, even over a long season and so the estuary of any system, which fills and empties twice daily, may well be worth exploring....another advantage is that it's free fishing! Salmon rarely take in saltwater, Sea-trout have their moods, but there's also the possibility of Bass which are usually co-perative if about. The estuary could be seen as a portal through which salmon and sea-trout must enter to get from saltwater to fresh, this transitory journey probably supercedes any desire to feed or hunt. See pics below
Looking inland near Cashen carpark Similar pic taken from Cashen carpark Facing inland as Cashen empties into Atlantic Facing seaward as Cashen enters Atlantic
April 29th
Had some business in Adare today and decided to give the Maigue at Castleroberts a try en route. After a long dry spell and not yet into the 'merry month' the river is quite low, at Summer level, minus the weeds of course. There was an Easterly dowstream breeze which made dry fly difficult, the Mayfly were again evident though not in sufficient numbers to get the trout going. Instead they were bulging to small gnat-like flies, I tried the Mayfly without success. I changed tactics and settled on a size 12 Pheasant Tail nymph (Beadhead) and after persisting for some time had my first take, hit it too late and felt a good fish for a moment only. Things then picked up and I had a half-pound fish followed by one over a pound (See pic). I lost another pounder at the net and had 2 more misses before calling it a day. PS I kept those 2 fish for a friend, most I release.
April 27th
Out with Aidan Spooner today, Aidan's new to the Adare area and wanted to explore some of the options for flyfishing hereabouts. Aidan had never flyfished a river before being more of a lake man, Corrib in particular. I showed him some access points before fishing the Deel at Kilcoole, Aidan took to this new discipline well although it was a bit claustrophobic by comparison to his beloved Corrib. Breaking news : The Mayfly is up on both the Deel and Maigue, it was a joy to watch the spinners 'ag damhsa' as we left Castlerobert's Bridge. Aidan was delightful company and I hope he'll have many enjoyable days on our local waters. Pics below
Above Kilcoole Bridge Kilcoole Bridge Weir, Castleroberts Castlerobert's Bridge
April 23rd
John Doran along with his wife Gail and daughter Mari were staying in Adare and I guided John for a morning on the Deel at Kilcoole, ending on the Maigue below Adare bridge. It's the Doran's first trip to Ireland and both John and Gail have strong Irish connections in Kerry and Clare. They're enjoying their vacation no end and it was a pleasure to have John's company. John, who's a sprightly 78years has spent a lifetime fishing the lakes and rivers of Michigan where he's based. The morning was sunny but there were fish active on the Deel, John lost one to the nymph. We had some small browns and dace on the Maigue. It was John's wish to fish whilst here and I hope he enjoyed our all-too-short encounter. See pics hereunder
April 21st
Was introducing delightful teaching couple Pa and Aideen Ryan (Pics hereunder) to flyfishing today, fished below bridge at Adare. They had 8 small fish each, a mix of browns and salmon smolts which are now outward bound and very much in evidence, it augurs well for future salmon stocks on the Maigue...though God only knows if we'll ever get to fish for them again. Colin Stafford-Johnston (Living the Wildlife series) along with a couple of assistants were taking some footage of what I suspect were spawning lamprey just downstream of us, they have moved up to the tidal headwaters to spawn, there were many small specimen immediately below the old bridge.
Pa and Aideen Ryan
March 3rd
First day guiding today, out with Bill Young, based in Texas but from Colorado. Bill was staying at Adare Manor and after 9am collection we fished the late ebb tide above and below Adare bridge. It's a little early for flyfishing despite the fine Spring weather, and although air temperatures were pleasant in the sunshine the water is still very cold. We failed to stir a fish, nor indeed did we see any activity so we moved to the Deel . We had our packed lunch at Kilcoole bridge before heading upstream to fish the last 200yds or so back down to the bridge. Again no fish stirring though we saw a few dark olives come down, not nearly enough to bring the fish on. I even changed tactics by putting up a sinking leader with deep nymphs on board, but to no avail. Conditions got the better of us but it was a lovely day to be out and I'd like to think Bill will be returning to the States having enjoyed the outdoors here and armed with some helpful casting tips. Pics hereunder
R.Maigue at Adare River Deel Bill Young at Kilcoole Bridge, R.Deel
February 22nd
At the start of our fishing season here in Ireland we're starting to emerge from the worst Winter on record...don't even get me started on the economy! The weather seems to be taking a turn for the better, the lengthening days and slowly-rising temperatures hopefully mean that Spring is upon us. My season, guiding-wise begins next week on March 3rd which coincidentally happens to me my birthday. I'm hoping for a mild day as we will be flyfishing for browns on my local rivers Deel and Maigue. I had planned to upgrade my transport before the Season began but am keeping one eye on bookings before taking the plunge. My Ford Ranger Crew-cab has served me well for the past 4 years and never gave me an ounce of trouble, it has loads of space for gear, takes 3 passengers comfortably, 4 at a push. And it has the all-important steel roof and bonnet, essential for my magnetic rod-carriers. It also has good ground clearance for negotiating rough ground. The river Maigue as well as the River Deel both remain closed to Salmon fishing, the situation is as it was last year in Co. Limerick. The former would be a good 'early' salmon water , the latter more a system with a few salmon making a welcome return to what was once a good salmon river. It'll be interesting to see what kind of salmon season we get, my club water, the Feale didn't fish great in 2010. The drift-net ban does not seem to be resulting in any remarkable improvements in rod catches, the scientists now believe that the problem is much bigger than just drift-nets, global temperature changes leading to a reduction in the salmon feeding grounds is just one theory cited.